An Ikea kitchen is one of our favorite places on the shopping list. Each product comes with easy instructions and even easier installation, which is why we love them.
TOMUWN 2sreimoa HUNGAI, CC BY-SA 4.0, Wikimedia Commons
With over a 25-year warranty and a wide price range, Ikea kitchens are an affordable and long-lasting solution for many people. Those who want to renovate, but simply are not able to allocate funds for custom-made furniture, often choose an Ikea kitchen.
Guidelines for choosing an Ikea kitchen
If you have decided to order an Ikea kitchen in 2023, we will give you some guidelines and design ideas on how it could look. Of course, the company will create a 3D design for you, but it is not bad to have a preliminary view of the vision and how you want it to look.
It seems all you have to do is take the exact dimensions of your kitchen space and visit an Ikea store to request a blueprint. The preparation of a kitchen project by their associate is free. If you want to take the project, in electronic or paper form, this is done after paying the final flat rate.
But also, you can try to design your kitchen yourself through their special 3D program. It allows you to try different configurations from the comfort of your home. Then you have to visit the store and their associates will help you with the final look of the design.
Before you start with all this, we recommend you follow the steps below so you don't miss anything.
Ikea kitchen – measure twice, cut once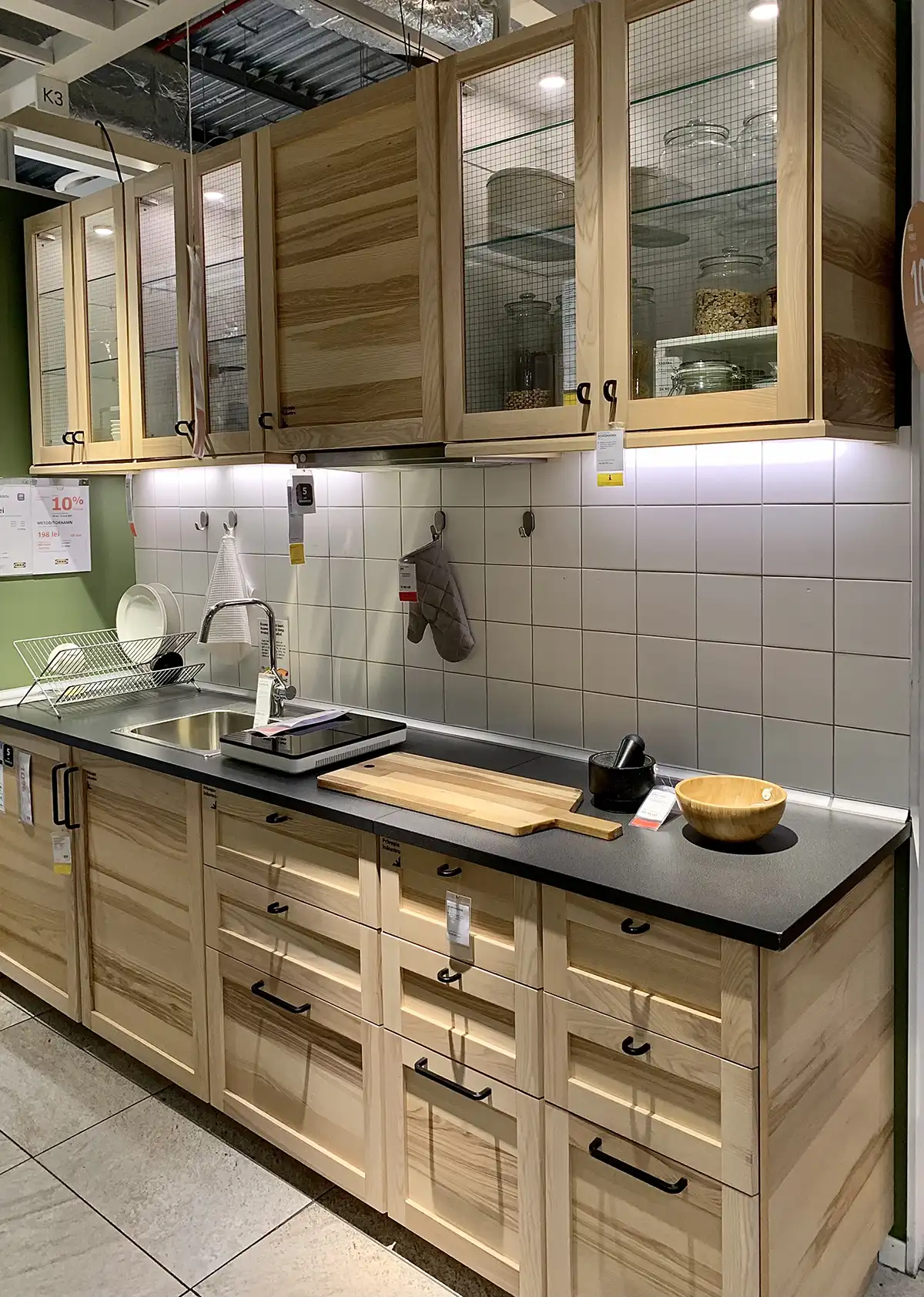 Neoclassicism Enthusiast, CC BY-SA 4.0, via Wikimedia Commons
Carefully measure your kitchen before choosing cabinets and appliances. This is easiest to do if the room is empty. If your kitchen is still in its old shape, it can be difficult to get the right dimensions. It's important to account for tiles, outlets, window openings, and any other items that would affect your measurements. We recommend that you use an electronic tape measure.
Plan your kitchen areas
It is useful to make an inventory of your dishes and everything else that you will store in the kitchen. Many designers advise that you think carefully about the efficiency you want to achieve. For example, the dishwasher should be well installed next to the sink, the cooking utensils – near the counter. If you have specific appliances in mind, make sure you have their dimensions during the planning process.
Cabinets are usually planned around cooking appliances, so they should be accounted for from the start.
Ikea sells all these appliances so you can easily order a kitchen from them. Think about how you like to prepare food and how you store your dishes and other kitchen utensils. Professional designers spend considerable time thinking about these details to ensure that the kitchen will function well. You will want to do the same, and it can be a fun process to go through. This is your chance to design a kitchen that really works well for you and your family.
Kitchen cabinets
Many people choose Ikea cabinets, they are of good quality and easy to assemble. Solid wood cabinets are much more expensive (and heavier) and considering that the interior of the cabinet is almost invisible, some people don't want to spend extra money, so they only bet on MDF fronts and the rest chipboard .
Most cabinets are made of chipboard and MDF, covered with a transparent laminate. Particleboard is not as hard and durable as solid wood, but it can be a good alternative at a lower cost. Ikea offers cabinets in standard sizes and cannot be ordered in custom widths, so you may need to use filler pieces if you have a few centimeters of space to spare on the left or right of the cabinet. This is also called the terminating aperture.
Ikea kitchen planner is great for design works and makes everything look as good as possible.
Ikea kitchen cabinets come with a good selection of internal organizers and options such as adjustable shelves, pull-out drawers and other features. Drawer dampers (soft close mechanism) which give a soft close prevent hearing the annoying rattling of the drawer or door every time.
Interior lighting is also available for some of the cabinets, so be sure to check out their entire collection online.
Ikea base kitchen cabinets
Ikea's main kitchen cabinets are available with a depth of 24cm, 40 and 60cm. Most under-counter appliances such as dishwashers and ovens are also designed for 60cm. Depending on the depth you choose, you will have a choice of different widths as well as internal components and fronts.
Choosing the right base kitchen cabinet requires careful consideration, and many find that this part of the process is time-consuming. Some cabinets will be easy to choose, such as a sink cabinet, corner cabinets or a cooking cabinet. But choosing the right type of base cabinet for your kitchen means you need to decide which items go where and how you want to access them.
Ikea Wall Cabinets
Ikea wall cabinets have different depths, which is convenient because you have a greater choice. There are various options such as corner cabinets, cabinets with shelves and wine racks, etc. Like base cabinets, you may want to consider what kitchen items will be stored in them and how they will coordinate in terms of functionality.
Ikea Tall Kitchen & High Cabinets

Ikea kitchen tall cabinets are ideal when you need to add more storage space in the kitchen. They step onto the floor and are available in heights of 203cm or 228cm (other sizes available), with a variety of internal storage options such as adjustable shelves, pull-out drawers or compartments to accommodate special items and appliances such as a microwave oven etc.
Well, if you've come this far, the rest is up to you 🙂 check out their online product, get inspired, but most of all, don't rush. The kitchen is one of the rooms that requires the most finances, so think carefully.
Be sure to watch the video, which will give you a better visual idea of some options of the offered products.
Modular kitchens from Ikea
Modular kitchens from Ikea are an excellent choice when you have more space. However, you must comply with the sizes that we recommend you take in advance.
IKEA Kitchen Tools & Gadgets
Check here to see what is currently available from Ikea like tools and gadgets, accessories and organizers.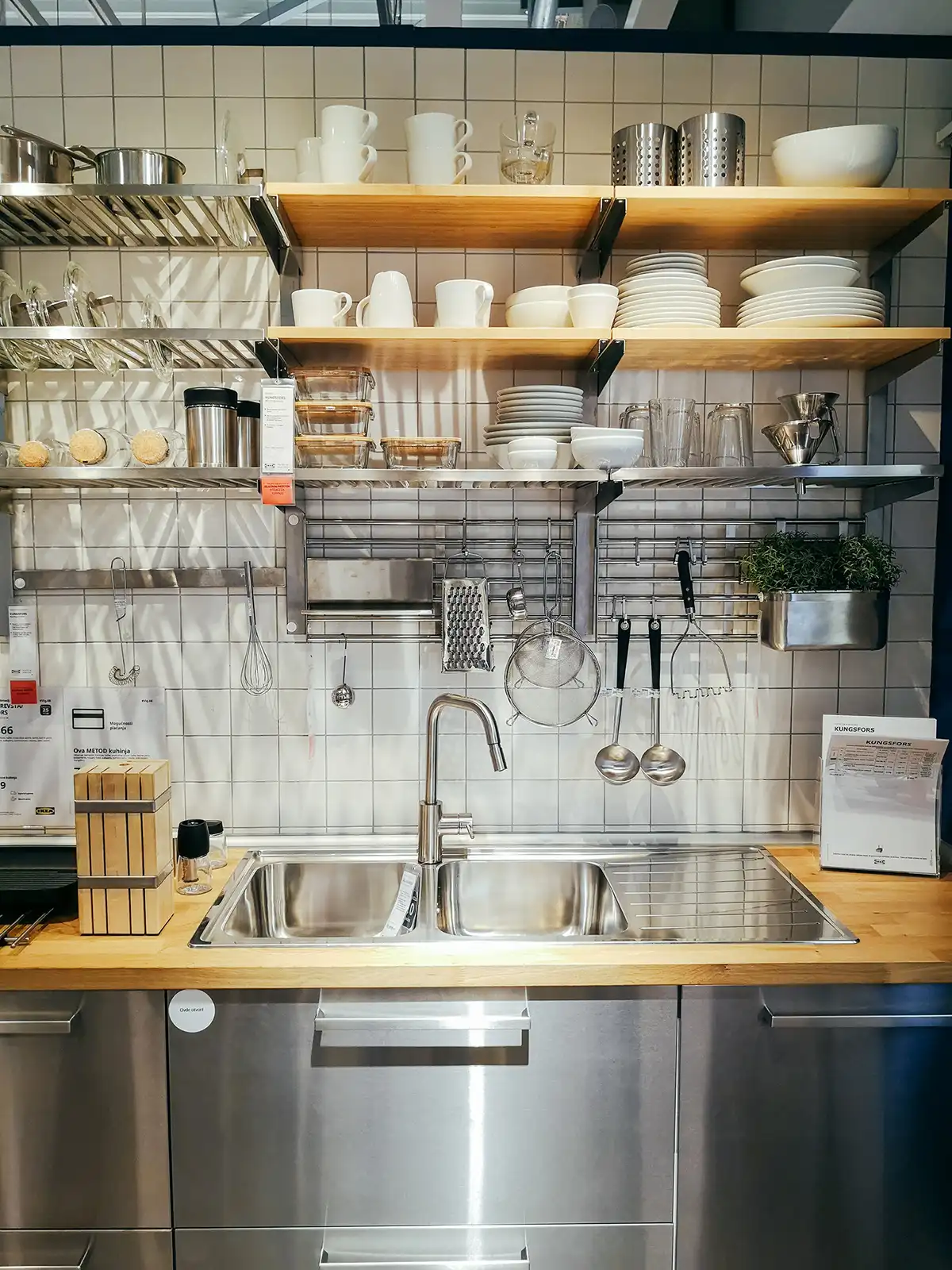 Nenad Stojkovic / CC BY 2.0, Flickr
How much does an Ikea kitchen cost?
Many of you will be asking yourself this question. Although their prices are reasonable, you'll need to visit an Ikea store to investigate or make a rough estimate yourself. Now you can start by checking out what you will need before checking with a representative.