Ready-made prefabricated houses – what do we need to know about them?
Photos by: stock.adobe.com
The construction of prefabricated houses differs from the traditional method in that the elements are initially prepared on a production site. Then all components are carefully fitted to each other with appropriate equipment.
Each component is marked according to its position, and we should note that this can be done in extremely short terms.
Ready made prefabricated houses – advantages
Here are the advantages of ready-made prefabricated houses:
Such houses are assembled very quickly – in just 1-2 weeks. This is their main advantage.
All the details of a prefabricated house are delivered to the construction site already processed, they do not require specific finishing works.
The relatively low price is also a big plus. The reduction in construction time significantly reduces the cost of the building.
A small construction crew is building the house. Simplicity of installation can be done with a smaller work team. Even some people decide that they can handle the smaller prefab house models on their own based on the instructions.
High degree of environmental friendliness. Often in the production of prefabricated houses, wood is used that has been specially treated.
The companies offer a variety of individually designed house models. Regardless of the chosen material, a reliable and comfortable home is obtained.
Stages of building a prefabricated house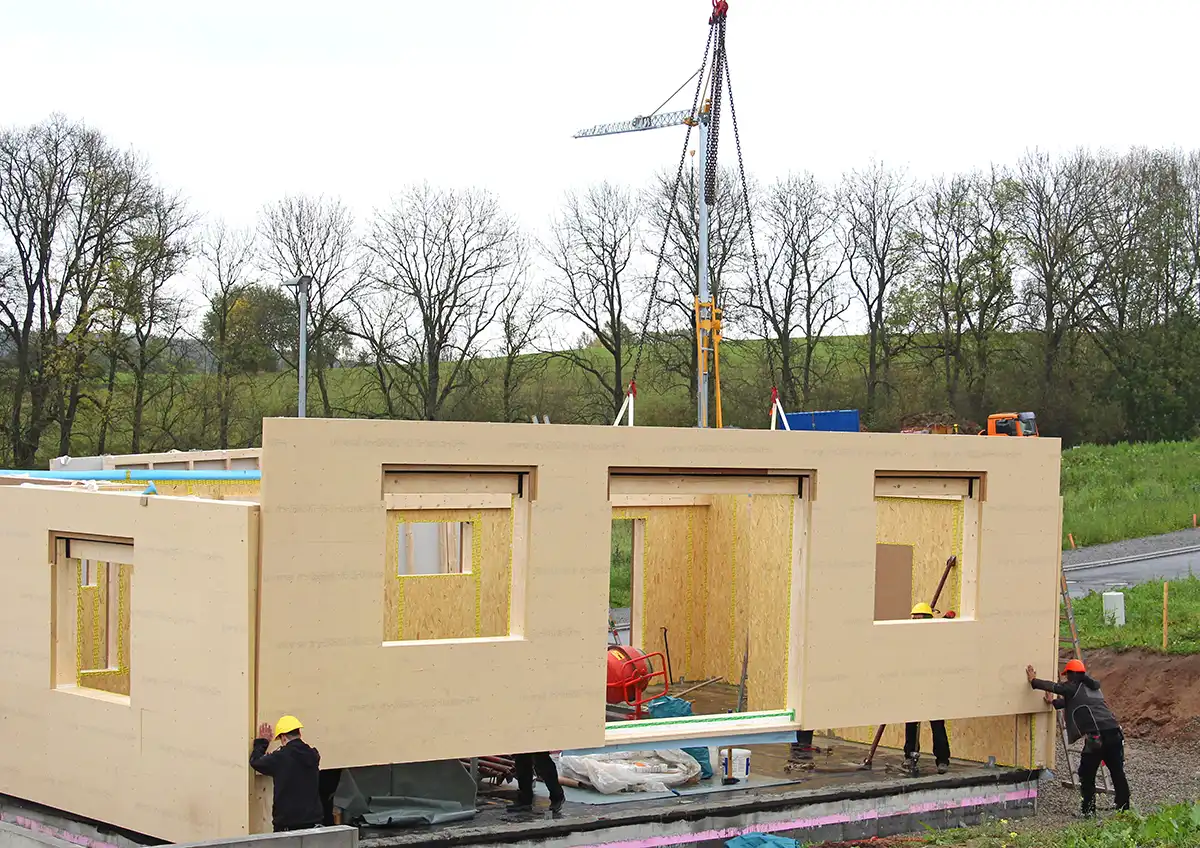 Like the construction of any building, the assembly of the prefabricated house is carried out in stages:
Design;
Development of documentation;
Production of the elements in the industrial site;
Fencing the construction site and laying the foundation on which the house will be built;
Raising the structure of the house itself;
Installation of the roof;
Installing structures for windows and doors;
Laying communications, wires, pipes for water, heating, etc.;
Interior decoration;
Laying a protective outer coating at the customer's request.
These are the general stages of construction, their sequence may vary slightly.
Prices of ready-made turnkey prefabricated houses
The prices of such houses are a topical issue for all customers. To make sense of this question, it should be remembered that pricing is influenced by many factors that in one way or another have a role in the final price.
This includes the calculation of work per square meter, design complexity, project scope, main, additional construction activities, excavation and foundation construction, etc. In addition, the construction of one-story or two-story turnkey prefabricated houses will differ significantly in price. Therefore, it is quite difficult to determine how much a prefabricated wooden or panel modular building costs.
Our brief research showed that prices start at 350 euro per sq.m. for ready made prefabricated houses with assembly included and ready-to-paint.